FAQ
How may we help you?
Browse the following section to find answers to our most Frequently Asked Questions!
Answering your questions!
Our Frequently Asked Questions were created to ease your mind and answer some of the most common yet vital questions of our lovely couples, who are eager to start their wedding planning journey with us!
What is included in the basic set-up for the ceremony and reception?
The basic set-up for your wedding ceremony includes tables in white linen, a white wooden table for the ceremony, white china, silver cutlery, glassware, and wooden bar stools for cocktail hour. 
Should you choose the Infinity Kiosk Venue, a Gazebo with white drapes is included.
What is considered as low season, mid-season and high season?  
Low Season:  From November 1 to April 30
Mid-Season:  From May 1 to May 31 & from October 1 to October 31
High Season:  From June 1 to September 30  
Is the celebrant included in the venue fees? 
Booking a celebrant on site for a Symbolic Ceremony or Civil Ceremony comes at an extra cost. In the event of a Civil Ceremony, we may take over the legalities as well as the entire legal procedure with the local Town Hall and the Municipality. Translation and authentication of your legal documents come as well at an extra cost. 
Are the planning services included in your venue fees? 
Kindly note that wedding Planning Services are offered at an extra cost.
Your dedicated wedding planner will be assigned to you from the moment your wedding date is booked to the completion of your event! 
We will be organizing every single detail from A to Z! 
On top of that, guidance for the booking of local suppliers and professional partners is included. Moreover, legal procedures with the local Town Hall event coordination and supervising on the day as well as continuous support via e-mails and Teams meetings before the event as well are all included in the planning services offered at an extra charge.
Can I choose and hire my own vendors/suppliers? 
We do hold long-lasting cooperation with the top wedding professionals in Santorini in order to provide you with the best quality and price services. 
In case that you wish to hire a vendor that has not been introduced by us, before you make any commitment, we would kindly ask you to bring their names/nationality to our knowledge.
Moreover, every guest or vendor participating in your event within the Venues, is under the obligation to abide by the Terms, Conditions and Policy of the Hotel at any stage of the Set Up or the Event, in general. Last but not least, please make sure that the suppliers/vendors are able to provide legal receipts for their services prior to the event that should be in your possession throughout the duration of the event, to avoid any unpredicted situation in case of Tax Controls. 
Is there any possibility for an early check –in?
Official check-in is at 15:00. An early check-in is subject to the departures of the day and may be confirmed on the spot, only on the day of check-in.  
Kindly note that the bridal room(s) required to be reserved for your wedding package will be available from 15:00 pm on your wedding day, since this is the official check in time. 
We would kindly advise you for your convenience and in order to enjoy your wedding preparations in our Hotel, to book accommodation (any room type) from the night previous to your event for two nights in order to avoid checking out on the day of your event at 11.00 am and then checking in to your required Rocabella suite at 15.00.
You may contact directly: [email protected] in order to take advantage of special offers available.
Do you host several events on the same day?
In case we receive a request for a second potential event like a small-scale ceremony or reception, it would be hosted in another part of the hotel that will not affect your wedding celebration in any way.
However, please note that it would be a low-key event and you will be kindly advised.  
Your wedding will be led and supervised by your own dedicated planner exclusively, in all the stages of the day flow. 
How much deposit is needed to secure the date and the venue?
100% down payment of the Venue Fees is required upon booking to reserve the date and the venue for next season.  The remaining balance should be finalized at least 2 months before the event. Wedding deposits are non refundable. 
Are fireworks or China lanterns allowed?
Kindly note that due to municipal restrictions, air fireworks, china lanterns and shows that may release sparks and flames are not permitted. 
Nonetheless, we would be happy to suggest alternative ideas, such as ground or water-based fireworks that create spectacular shows and are not subject to weather conditions or legal restrictions. 
Can my wedding guests get a discount on accommodation?
All wedding guests are entitled to special accommodation rates!
The offer is valid for reservations on non-refundable room rates, upon availability and for bookings made directly through our Reservations Department at [email protected]. As soon as you book the event with our Wedding Team, kindly contact the reservations department for further details and availability. 
What happens in case of bad weather?
All our wedding venues are outdoors, overlooking the stunning caldera and the sea. 
Indoors space is not provided, but in case of bad weather, we would be happy to offer you our in house restaurant at an extra charge for a maximum of 100 guests (restaurant space is provided with a specific set up and no dance floor is included). Kindly note that for this arrangement an 8 hours notice in advance is necessary.
When can we have access to set up/decorate the venue?
Usually 2 hours before the event, unless otherwise agreed.
How long does the wedding ceremony last?
The entire wedding ceremony, from start to finish, lasts for one hour including the photo session after the wedding.
How long in advance should we choose a date for our wedding?
Weddings in Santorini are usually planned months in advance. It is highly advisable to book your wedding date as early as possible because Santorini is an extremely popular wedding destination.
Could we extend the end of our reception?
In the case of the Infinity Pool Venue, you may extend the event until 00.30 am with a minimum consumption requirement per guest applying.  
In the case of the Exclusive Pool Venue, you may extend the event until 00.30 am with a minimum consumption requirement per guest applying.
Can the ceremony and the reception set up be ready at the same time?
In case you host your event, ceremony and reception at the Infinity Kiosk Venue, after the ceremony your guests need to be guided towards the Exclusive Pool in order to set up the tables for the reception. 
The Exclusive Pool is the closest area to the Infinity Kiosk Venue, and we may arrange for a reserved area and a cocktail hour for your guests, while we are setting up the Infinity Kiosk Venue for your reception. 
In the case you host your reception at the Exclusive Pool Venue or the Infinity Pool Venue, your guests may gather around the corresponding bar until we transform the Venue for the reception. 
That would last for approximately 1 hour. 
During this time, we may arrange for a nice cocktail hour in order to keep your guests entertained, while you are out on your after-wedding photography session.
If your guests number exceeds 50, it would be advisable to host your ceremony and reception in two different Rocabella Wedding Venues.
When is the final settlement of the total amount due? 
At least 2 months prior to the event. 
When do we have to provide our final guest numbers and F&B choices?
Confirmation of final guest numbers, menus, times, special dietary requirements and all other details are required to be declared at least 75 days before the event date, unless a different time-schedule is mutually agreed upon. Your final invoice will be based on these numbers. We cannot guarantee that any changes thereafter will be accepted, and no change whatsoever will result in a discount of your final invoice.
How many days prior the wedding date must we arrive in Santorini?
We recommend that you arrive in Santorini 3-6 days before the scheduled wedding date, in order to have adequate time to meet in person with all your suppliers and finalize the last-minute details. 
Can I bring my own wedding décor items and favors? 
We would be more than pleased to assist if you wish to bring a couple of items of your own decoration. In case the decoration requested to be placed for the event is excessive, heavy or consists of many different pieces which need to be assembled or grouped, please be kindly advised to inform our wedding team well in advance for additional assistance since we might have to allocate this project to a staff member upon extra cost. 
Should we arrange transfers before or after the event for our guests?
We highly recommend arranging transfers to be available for the guests' smooth arrival and departure. 
When do we meet with my wedding planner on site?
As soon as you arrive in Santorini, you could arrange your pre-wedding meeting with our Wedding Team, in order to further discuss your wedding details. 
What is the best way to travel with a wedding dress?
Any arrangement for transportation of a wedding dress should be discussed directly with your airline carrier. We recommend keeping all your important wedding items and documents in your cabin suitcase! 
Does the venue have parking spaces? 
We do have parking space available outside the hotel.
Do I need to organize childcare on my wedding date? 
We strongly recommend for your guests' and your enjoyment, particularly after drinking, that children are always supervised to ensure their safety. We would be more than pleased to assist in booking babysitting services for your event. 
Is there access for guests in wheelchairs?
We would kindly inform you that our hotel is built in 3 levels, overlooking the caldera and access for wheelchairs is possible, but only through certain entrances and routes through the hotel grounds. Please note as well that wheelchair access is not available in all common areas of the hotels.
Do you have a noise inhibitor?
Yes. It is set at 70 decibels– which is actually very loud. Any music can be played until 24.00 hours with a limit of 70 db. which cannot for any reason be exceeded.
After 23.00 music must be lowered to a limit of 60 db. Live music (bands etc.) is strictly permitted upon previous agreement and should extend no further than 23.00.
In the case of the Infinity Pool Venue Reception rental, an in house professional DJ and sound system are provided for 6 hours and no other DJ is allowed to perform. 
Lets create your fairytale wedding together !
Resesrve your venue by the 15th October 2023 and benefit from our up to 40% discount offer on 2024 venue fees!(restrictions apply)
This is a non refundable offer upon 100% deposit requirement and can be changed or withdrawn at any time and blackout dates may apply.
Any new offers do not apply for already made reservations and each offer shall not be applied cumulatively with any other offer.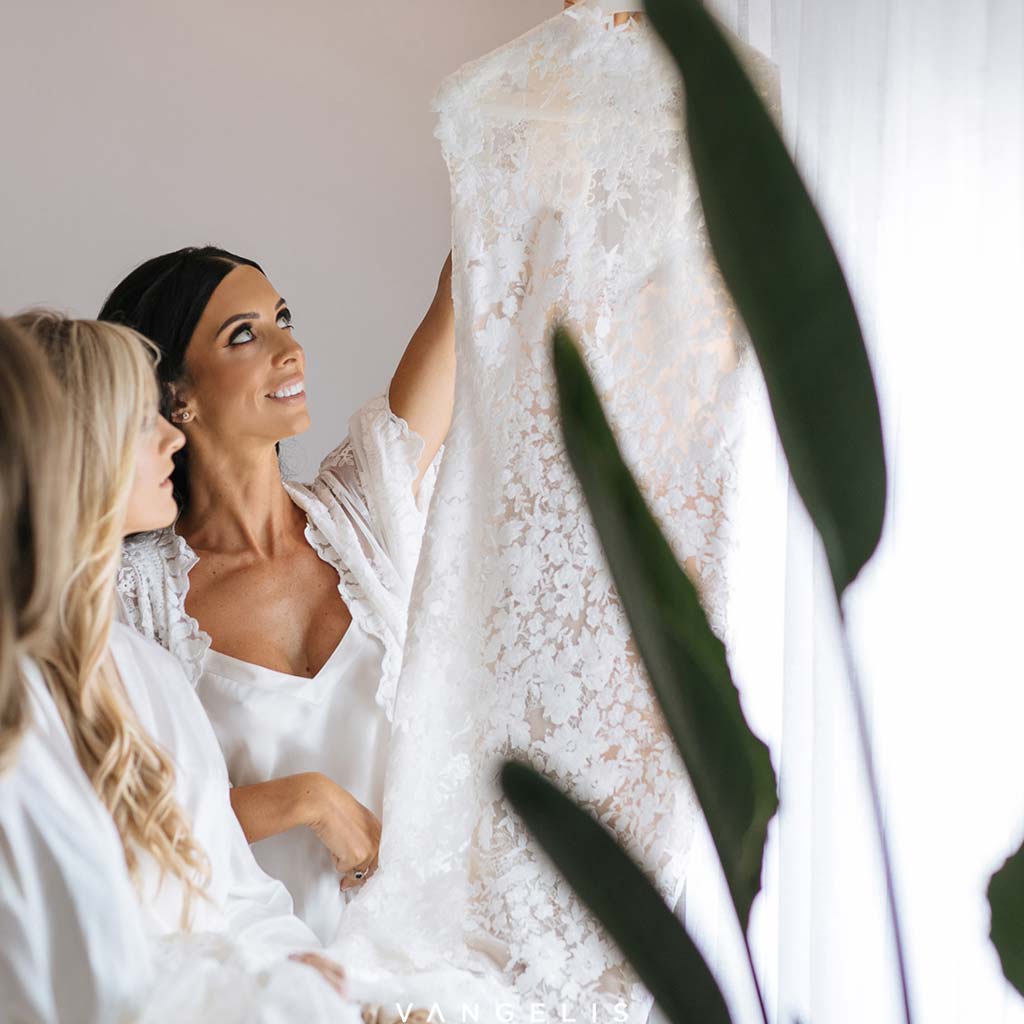 Flash offer up to 50% off all the venue fees for season 2023 for bookings confirmed until the 30.10.2023 (limited dates only/ restrictions apply)